WHAT IS EMONINAIL

™

?
EMONINAIL

™

, WHAT IS IT?
A SAFE TOPICAL TREATMENT TO ELIMINATE
NAIL FUNGUS & RESTORE CLEAR HEALTHY NAILS
The simple answer: EmoniNail™ is a maximum-strength, professional-grade topical treatment designed to eliminate nail fungus by effectively penetrating the nail bed and killing nail fungus on contact. Our blend of powerful active ingredients, nail penetrating essential oils and plant extracts, create the most effective topical nail fungus treatment on the market.
EmoniNail™ is produced in a GMP accredited, FDA registered facility in the USA with the strictest quality standard. We guarantee EmoniNail™ will work for you!
8 KEY INGREDIENT CONCENTRATED FORMULA
8 KEY INGREDIENT CONCENTRATED FORMULA
HIGHEST-QUALITY TOPICAL FORMULATION TO ELIMINATE NAIL FUNGUS
HIGHEST-QUALITY TOPICAL FORMULATION TO ELIMINATE NAIL FUNGUS

HOW DOES
EMONINAIL™ WORK?
WHY EMONINAIL

TM


JUST WORKS

The EmoniNail formulation is the product of thousands of hours of clinical and scientific research intro dermatophytic onychomycosis, commonly known as nail fungus.
Pure. Safe. Effective. Our proprietary blend includes the active ingredient undecylenic acid, an FDA recognized anti-fungal, with world-renowned essential oils like tea tree oil and sunflower seed oil. This combination is designed to help the treatment penetrate every area in which fungus lives and eliminates it completely.
STEP #1 - PENETRATE

The proprietary blend penetrates the nail plate and delivers powerful antifungal agents directly onto the nail bed.

STEP #2 - ELIMINATE

Kill nail fungus on contact and permanently destroy the infection with powerful antifungal agent undecylenic acid.

STEP #3 - RELIEVE

Relieve itchiness, discomfort, and inflammation with natural fungicides like tea tree oil. Stops discoloration by treating damaged underlying tissues.

STEP #4 - RESTORE

Restore clear and beautiful nails by nourishing your nail beds and improving their appearance.
THE BENEFITS
OF USING EMONINAIL™ TREATMENT
Kills nail fungus
Applies easily with topical brush
Helps clear yellow keratin
Natural, safe, and effective
Guaranteed to work within 60 days or your money back
It works!
EMONINAIL

TM

TREATMENT LABEL
AND DIRECTIONS
ELIMINATE NAIL FUNGUS AND RESTORE CLEAR NAILS TODAY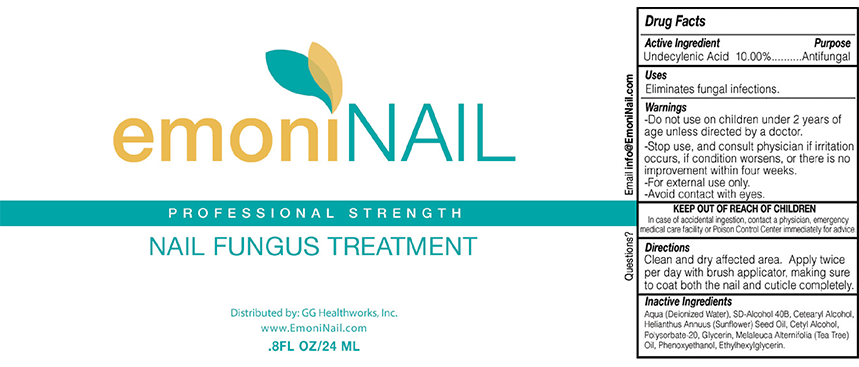 WHAT'S THE WORD ON EMONINAIL

™

?
JOIN THOUSANDS OF PEOPLE WHO HAVE RESTORED THEIR CLEAR AND HEALTHY NAILS!
Results!! This nail fungus cream actually works. The top right of the nail was completely yellow and black before I started using this. After only about a week it started to lighten. And I got optimistic. And then no real progress for about a month, and then I finally saw the nail starting to grow out and thanks goodness the new nail growing in was completely clear!
I tried many over the counter remedies to no avail. Things such as, Probella, Ganeden cream, Fungus Stop, Emuaid Max Ointment, Formula 3, 100% Tea Tree Oil, Nonyx Nail Gel, Kerasal, Fungi Cure, and TNT Gel. I also used a prescription cream, Econazole Nitrate. I also had numerous laser treatments, 4 treatments in 2016 and 3 treatments in 2017. None of the above treatments improved my toenail fungus. Then on 9/24/18 I started using EmoniNail on my toenail fungus. Initially I didn't thing that it was working, because I didn't see any improvement for quite some time, ... But, I kept using it. Eventually it started working. Now my toenail looks normal. I spray Lysol Spray in all my shoes, right after I take them off, to keep from getting a recurrence of toenail fungus. I believe the EmoniNail and the Lysol spray are what finally got rid of my toenail fungus.
I had 3 ugly toenails. I didn't like wearing sandals. I have used EmoniNail 2 separate times over a period of a year. All my nails or on the way to looking normal again. My suggestion is to keep using EmoniNail 2 times every day until you have the results you want. I plan to wear my sandals on my upcoming trip to Kauai.
I have been suffering from nail fungus for over 5 years now and have tried multiple remedies including prescription-strength topical medicine. Unfortunately, nothing has seemed to work and in fact, my toenail fungus spread to the other toe this summer which had me very upset. I started looking for the best OTC treatment on the market and I found EmoniNail. I was skeptical at first because of so many failures but thought I would try it. I have been using it now for close to close 3 months and it's working. The process is very slow and you must be diligent with all steps of healing but it is working! I would recommend this product to anyone trying to fight nail fungus. Additionally, the support team there is amazing and is always giving helpful tips along the way. They check in often and their response time is very quick if you have a concern or questions.
The situation felt hopeless! First fungus on the nail of my big toe. It was a dreadful feeling to see this spread to all but one toe on my right foot. But I started using EmoniNail and slowly but surely my nails began to clear up. I'm still in disbelief.
My husband has had ugly toenails for as long as I have known him. 20+ years. However, about 6 weeks ago, I noticed they were SO much worse. Not just yellowed and cracked, but HUGE growths under ALL nails, raising the nail enough that it was uncomfortable to wear any kind of shoe. He said it was fine, but I put my foot down. :( so to speak. After searching online, I ordered emoniNAIL. After one week of use, my husband took it to this doctor when he went in for his regular checkup. She said non of those things work, and his best bet was to take a pill. He chose to not take a pill for many reasons, one being he is elderly and taking enough already. Not to mention side effects to kidneys and liver. After two weeks of use we noticed a might change. New proper nail growth could be seen at the base of nails. It has now been one motnh and they are starting to look terrific. I will take another month, I am sure, to bring them back to 'normal' Thank you, Thank you for this product.
I was quite skeptical at first, didn't see much happen for the first 2 weeks except some redness disappearing. By week 4 my nails had softened dramatically. All the brittleness was gone. Now on week 6, and I can see clear nails growing in. This is a huge relief to finally be done with nail fungus after 15+ years. I appreaciate the followups.
Clear nails are growing back! My toes are saved!! Thanks emoniNAIL
It took a bit longer than I expected but after two bottles, I think it is now safe to say I am nail fungus free. Thanks for checking in.
I am just writing to thank you. Your product working exactly as advertised. Just bought 3 bottles for my elderly mom.
Thanks for the help with the re-order. This stuff is fantastic my big toe looks 1000x better.
I have tried so many things but this worked and I am so happy to have healthy feet again!
As an update, my progress has been very interesting and successful as well. I used one and a half bottles of your emoninail. the initial response was that it killed off the fungus under the nail. I cleaned out the dead tissue and removed the nail that remained. Currently the nail bed has recovered and the new nail has grown out to about 90% of the normal length. so keeping nail trimmed and should be 100% by christmas!
I've had rotten toenails for 20 years due to a soccer coaching mishap where i damaged my toenails so badly, they fell of and never grew back correctly. i don't actually even have an image in my head of what my nails looked like when they were healthy. i really have no recollection of what normal feet look like im so grateful to you and the engineers, designers, and all the team members at emoninail. it's really really really nice to not be ashamed of my feed thanks!
I used the product for the past 4-5 months 2 times a day and my nail has just about grown out healthy and clear. I ordered a supply for my husband tonight. Customer service is phenomenal!
STARTER PACKAGE
1 MONTH SUPPLY
(Recommended for mild cases)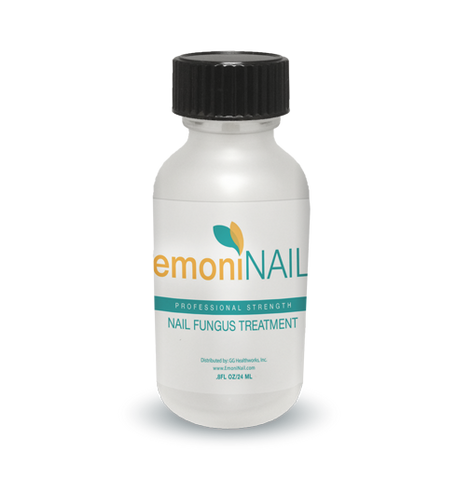 MOST POPULAR
SAVE $59.90
3 Month Supply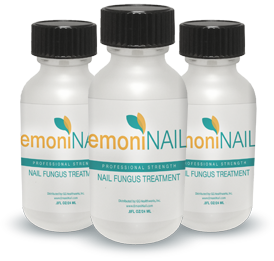 BEST VALUE
SAVE $119.95
5 Month Supply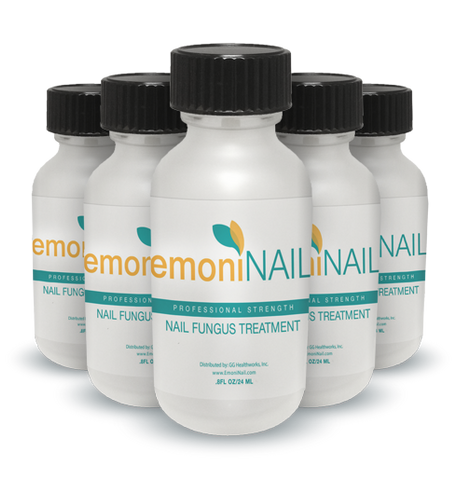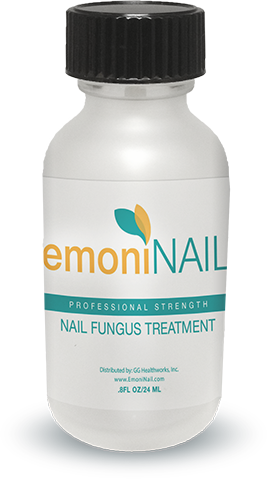 TRY EMONINAIL

™

TODAY
!
60-DAY RISK FREE OFFER
GET EMONINAIL

™


60-DAY RISK
FREE OFFER!
Emoninail™ is guaranteed to effectively eliminate nail fungus and restore nail health. If you're not happy with EmoniNail for any reason, send it back for a full refund. No questions asked!
X
User Reviews
Disclaimer: Individual results may vary. The text on this website is for informational purposes only and should not be used in substitute for the advice of a veterinarian or other medical professional. All statements, opinions, and information on this website have not been evaluated by the Food and Drug Administration. All trademarks or registered trademarks are the property of their respective owners.
Thank you! Your review has been received and will be reviewed/posted soon.